03-26-2012
We are working hard on the recording of our new songs, and here are some pics.
Benoit Perset just recorded the drums on 10 of the 12 titles that will be on the cd. Jean-Luc is done with the bass takes with his new Precision ! Mary played the guitar on 3 songs. Stephane joined thursday to begin his takes of piano and organ. 4 songs in the day, not bad. But we have to send all the tracks to Pete Winter, in the Talahassee Winterstone Studio , for the mix and the mastering at the beginning of aplril ... Well, let's not panic, we got to speed slowly !
A last minute guest, Dominique Adelin, Mary's fiddle teacher, is gonna play fiddle on one song...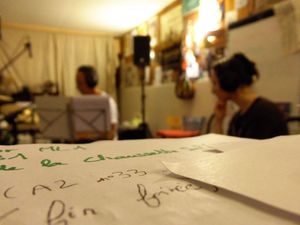 04-28-2009
After a long time in our studio in Brittany, we proudly show you a few pictures of the recording. The tapes are on their way to Tallahassee to be mixed. 9 new songs of Félicie Garric and Jean-Luc Brosse (Honky tonk train, Take me back to cotton fields, Une Lettre, quand vient l'hiver, Way down home, Petite fenêtre, Comme qui dirait, Rosalina), 2 covers (Live a little, I wanna be a cowboy's sweetheart).The cd will be ready in june. The song Rosalina will also be included in the compilation France Bluegrass 2009, as Miss the Mississippi and you by the Hoboes. Enjoy this clip, tell your friends about it. Thanks for your support.