Wonderful audience at the University of North Florida in Jacksonville, Wednesday evening for our 1st concert of this tour. One of the french teachers, Shira Schwam-Baird, a friend of our Tammerlin buddies had invited us, to play our songs and covers, mostly in french.
An audience made of students, teachers, and lovers of french, very attentive, perfect acoustic, warm welcome and very friendly and pleasant evening. lee and Arvid joined us at the end of the show to play "Suzanne", "J'ai mal aux pieds", and "Meet me in New orleans", one Lee's song of Tammerlin last cd.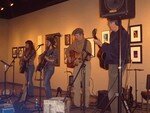 Sorry, but it is very long to send pictures. That why there are only a few.
After the University, a lovely coffe house, here in Jacsonville, The European Street.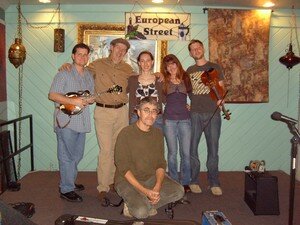 Then a long drive North up to Charleston (South Carolina) where we played at the "Unitarian Church" for an audience very carreful, and a little bit surprised to hear some famous songs with french words.
We slept in Charleston and early in the morning, we have been driving back to Jacksonville and Ormond Beach where we played at "The Bookstore", a wonderful place. Chuck, the boss tried Mary's washboard, he's such a kind guy.
Our version of Suzanne with Mary and Lee singing is great.
Tomorrow, monday, we are going to North Carolina and Tennessee for a few days of rest. Then we'll be back in Florida (Pensacola) the 1st of May for a radio and a TV show, before the Gamble Rogers Festival.