Saturday january 28th, at Les 4 saisons, Saint Martin en Haut in the mountains near Lyon.
In this pretty village, Jean-Luc spent the summer holidays of his youth. It's there he heard for the first time "Honky Tonk Woman". That's also the place he wrote his firsts songs.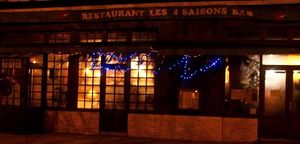 Here are some pics of this friendly and nostalgic concert. Jean-Luc met some old friends, and since winter was outside, we were inside eating some choucroute and playins some appalachian ballads. Thanks Tom, the cooker, and all the staff.
We drove back to Brittany under the snow. It's winter ...