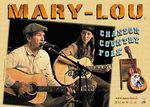 We will be on tour in Florida and North Carolina next April, just as a duet, Mary and Jean-Luc with our own songs, folk, americana with a french touch, and covers of the great songwriters we love like Arlo Guthrie, Jimmie Rodgers and many others.
It's a great pleasure for us to be back in USA, and to meet again our friends of the Tammerlin band.
Check our dates in the schedule section.
Hope to see you there.