09-12-2011
The Stray Birds in the Mary-Lou studio
The Stray Birds played in our studio sunday 2011/09/04, on their way back from England to Pensylvania. A small house concert friendly and great music. Maya and Oliver are very fine musicians, and kind people. They stayed one day with us in Brittany and left for two days in Paris before flying back.
01-04-2008
Summer is often a time to meet friends end spend very special musical moments. Please make yourself at home in our studio .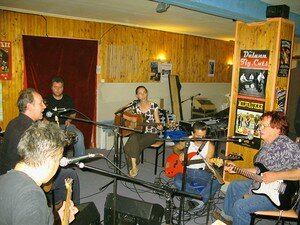 Our friend Panama Red, songwriter, guitar player and singer, a famous character of the Americana stage of the Nashville area, came this summer to play 5 concerts with Mary-Lou. He translated and adapted a Jean-Luc's song "A la santé des empires déchus" that became "A toast to the fallen empires". He left with the project of recording "Ar Steir" on his next cd. On our side, we work on a song he wrote (but not recorded yet) : "San Antonio Rosé". Here are some memories of the time he spent with us.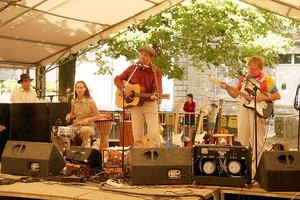 Festival of Pont Scorff : Stéphane Dhondt (keyboard), Mary, Jean-Luc and Panama