05-26-2013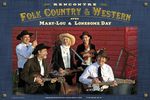 The five musicians of Lonesome Day and Mary-Lou will be on stage saturday june 8th at 22h15 for a big commemoration concert of june 6th 1944. This year is the 69th anniversary it will be in the village of Ste Mère Eglise (50) and it's free.

Our "Rencontre Folk, Country et Western" will perfectly fit to the spirit of this fest, as we will play songs from our cd, and more. On our set list : western swing, traditional country, folk songs, ...
We can't wait to meet you there.
Mary : vocals, guitar, fiddle, washboard
Marion Thébault : vocals, dobro, steel, harmonica
Jean-Luc Brosse : vocals, guitars
Jean-Paul Raffin : Vocals, guitar, mandoline
Stéphane Dhondt : vocals, piano, organ.
Also, at 20h30 : EDF , à 23h30 fireworks, and at midnight dance with Curaçao Blues.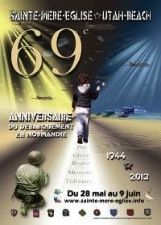 05-19-2013
We have been too busy, we have met too many people, we have played too much music to keep this blog really up to date these last weeks. Sorry. Back in France we are full of memories, of songs of projects.
Let's have a look on our last concerts in USA :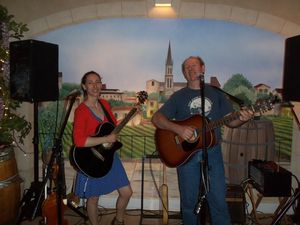 Wednesday 17th we play for the folks of the "Alliance Française" at JJ's bistro, THE french restaurant of the area. It's funny to hear people spek french. We meet many french people who settled down here. A very warm welcome from the audience and the staff. The owner is a guy from Bordeaux who have been living here for years. He has two restaurants and is the best seller of wine from Bordeaux here.
Friday april 19th : Music in the courtyard. A lovely place where we use to play each time we come. We play with Tammerlin a few songs we use to play together. Robin and Matt who are in the Ruby Beach band with Arvid come to play Good Night Irene with us.
Saturday april 20th : Riverside Arts Market :
A local producers market with musical entertainment every saturday morning under the highway. As we are freezing (the temperature here is exceptionnal for april) looking the dolphins play in the St John's River our friends of Tammerlin are playing.
It's up to us behing an audience of friends (it's too cold). But everything here is wonderful for us and people are so friendly and kind, the sound is fine, we keep on livig our dream.
We met a girl from Brittany who cooks crepes in the market. Very nice. We play Josephine near the Van. The crepes are the best we eat since we left France.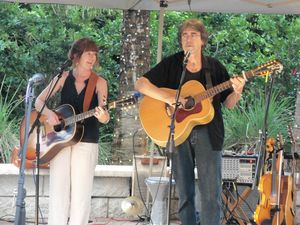 At night we play at the European Street .
A very fine concert. Many friends, good acoustic, it's always a pleasure to play here. Lee and Arvid come to play a few tunes with us. Good memories. We have to say good bye to our folks of Jax for this time. We're sad.
Sunday, we are lucky to be hosted by Lis and Lon of the Gaterbone Band. A fine house concerts with fine people and music. Thank you for hosting us.
Then we leave Florida for several festivals as the Merlefest in north Carolina, where we meet Michael Martin Murphey, the guy who wrote Cherokee Fiddle that Jean-Luc sings in our latest cd with Lonesome Day. Very interesting. He tells us how the song was born, as he was driving his son, 4 years ago, (with him on the picture) to take the train for the first time in Colorado.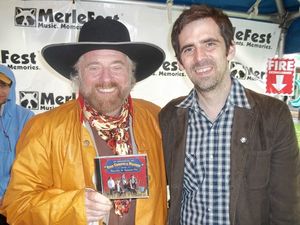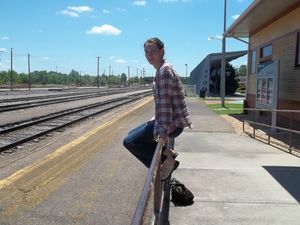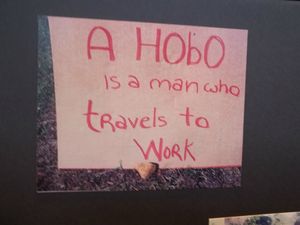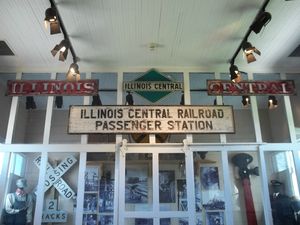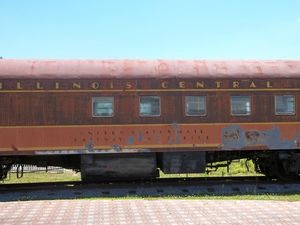 Then we take a ride on the City of new Orleans, the train that gave its name to the Steve Goodman's song.
Now we're back in France. We can't wait to go to US again to see you folks.
Take care of music, take care of you.
04-13-2013
Great night thursday at the Cook Shack in Union Grove. Wonderful audience, as you can hear on the video above. Thanks to everybody ans especially to our lovely friends Gail an Tom Watts.
04-08-2013
Wednesday april 2 we were at the Tammerlin 20th anniversary celebration concert with many guests.
Mary sung with Lee on "Meet me in New Orleans", I habe been participating at "See that my grave is kept clean" and, all of us, we ended the show with a beautiful Dylan song that Arvid sings like nobody elses "Nobody can sing the blues like blind Willie Mac Tell". We met many friends there, it was great. Thanks Tammerlin.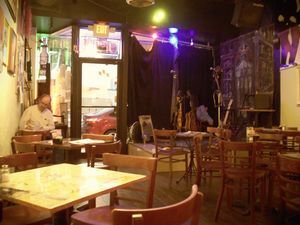 The Luna Star is the only place in Miami dedicated to folk music. We are glad to meet Alexis and Keith. A small lovely room, with good acoustic, a friendly audience, a wonderful listening. We talk with people about music, politics, .... Some are musicians, like the duet "Box of light, Music that helps you feel good and think well". All of them are interesting. The next day, rendez-vous at the Gram's Place, in Tampa, a kind of youth hostel holded by Bruce a lovely guy who became a good friend of us.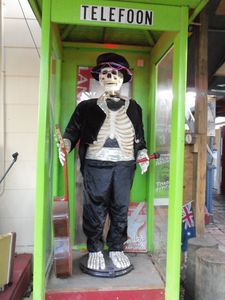 The name of this place comes frm Gram Parsons, a wonderful musician who died in tragic circonstances. The project began with Mark, Bruce,s brother. He died too early and Bruce keeps his dream alive. Two woman take the boat for Europe next day. There is a young woman from Brest. Lovely athmosphere. We dring some beers and talk with Bruce, and he shows us the dress Emmylou Harris was wearing on the cover of an album.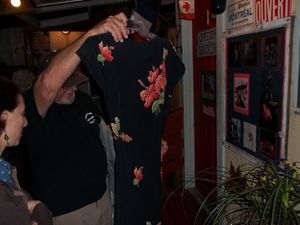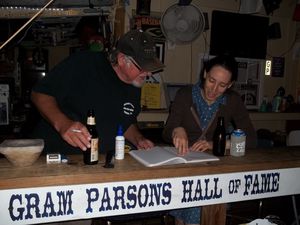 He want us to listen to his friend from Australia australienne Audrey Auld that we already know thanks to our friend Roland of Rouen.
Next step North Carolina.
03-31-2013
Lee Hunter and Arvid Smith, our friends of the Tammerlin band will celebrate their 20 years of music wednesday april 3rd at the European Street, Jacksonville. We will be there.
03-14-2013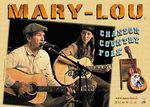 We will be on tour in Florida and North Carolina next April, just as a duet, Mary and Jean-Luc with our own songs, folk, americana with a french touch, and covers of the great songwriters we love like Arlo Guthrie, Jimmie Rodgers and many others.
It's a great pleasure for us to be back in USA, and to meet again our friends of the Tammerlin band.
Check our dates in the schedule section.
Hope to see you there.
03-09-2013
We're proud to introduce the new cd of Mary-Lou and Lonesome Day "Rencontre Folk, Country & Western".
A bunch of western swing, folk and traditional country song that the two bands has recorded live during a special concert in the Mary-Lou band studio on decembre 1st 2013.
You can hear samples, and watch videos here.
And even order or download if you wish.
We hope you'll enjoy that new release.

Mary-Lou et Lonesome Day - Cherokee Fiddle (M... par marylouband
10-15-2012
A video from our saturday night concert.
09-28-2012
This title from our newest cd "Music Medecine Show" will be available soon as a jingle. We hope you'll love it !
The Mary-Lou band will tour in Florida, North Carolina , ... april 2013.