08-24-2010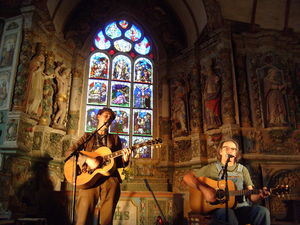 We played last saturday in St Ségal (Finistère). This small town near Châteaulin had invited The Hoboes to play their "Country Tales and Train Songs" in the St Sébastien Chapel. A hundred of people were there. You can visit that extraordinary building for free untill the end of August.
A lovely audience and a great night.
Thanks to the town and to Virginie Foutel who is in charge of the booking.

08-05-2010
A fewdays ago, we had Sven Faringen, the swedish fiddler of the Long Gone Smiles Band, at home, with Anette, his wife. We met some years ago The Long Gone Smiles Band on internet.
They define themselves as the spiritual sons of Hank Williams and Jimmie Rodgers. They won several contests in Sweden and USA and are among the best musicians of their country. They often travel to USA to play, like us.
Sven came for a gig to play with us. Here are some pics.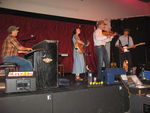 The Long Gone Smiles Band just released a new album that we do recommend to you :

Please have a look on their website : http://www.bluestandardmusic.com/index.html
and buy their cd if you don't have it yet.
07-30-2010
We recorded that Patsy Montana song with The Volleyball Jones Pickers in Jacksonville (Arkansas) on their way back from California to Florida. The Volleyball Jones pickers also called the Bluegrass Bombers are a bluegrass band of 4 very kind guys who are wonderful musicians. David Durham (upright bass), John Lee (vocals, dobro, banjo, guitar, banjobro), David Evans (vocals, fiddle, mandolin) & Steve Evans (guitar, vocals).
Stephane Dhondt, our piano player stayed in france because of the volcano. We had a wonderful time in Arkansas playing music and shooting that clip. Thank you the pickers.
02-06-2010
You know we like to play music with friends in France, Europe, and USA as well. We are working on a new show with Marion (voice, harmonica, dobro, lap steel) and Jean-Paul (voice, mandolin, guitar) from the Lonesome Day band of Brittany. Acoustic country, bluegrass, folk, new songs and covers, that we love to play together.
We will play a couple of gigs together each year.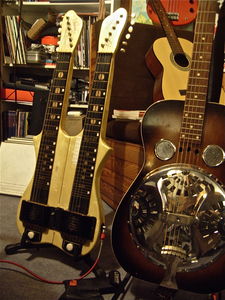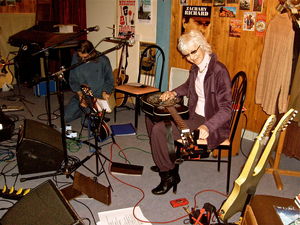 02-05-2010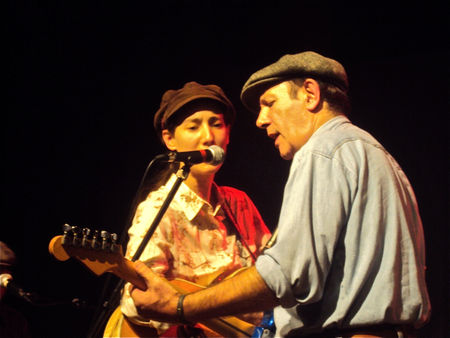 Some pics of our concert in Courcouronnes, november 2009
All the pictures are available here.
10-11-2009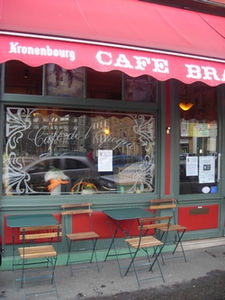 We played a few days ago at the Café de l'Epoque in Rouen (Normandy). A very friendly night in this magic place that fights to keep french music and blues alive.
Then, road to Netherlands for the 20th anniversary our our friend Rob "The Doc" band, Bootleg.

04-28-2009
After a long time in our studio in Brittany, we proudly show you a few pictures of the recording. The tapes are on their way to Tallahassee to be mixed. 9 new songs of Félicie Garric and Jean-Luc Brosse (Honky tonk train, Take me back to cotton fields, Une Lettre, quand vient l'hiver, Way down home, Petite fenêtre, Comme qui dirait, Rosalina), 2 covers (Live a little, I wanna be a cowboy's sweetheart).The cd will be ready in june. The song Rosalina will also be included in the compilation France Bluegrass 2009, as Miss the Mississippi and you by the Hoboes. Enjoy this clip, tell your friends about it. Thanks for your support.