08-12-2008
We're sorry our friend Panama Red cancelled his tour in France.
Let's take some time to talk about a wonderful festival : The European Bluegrass
Festival of La Roche sur Foron (74), organized by Christopher
Howard-Williams and a steam of 150 volunteers, with the help of private and public
organisations.
32 bands from European countries were meeting the 1st week-end of august to play on
stage,and jam until morning. The music was the heart of this festival, but it also was
a very special human adventure allowing each one to meet musicians from Russia,
Great Britain, Swede, Tchequia, Slovaquia, Germany, Hollande, Italie, and, of course,
France.Many friends of ours were there. Jean-Paul and marion, from Lonesome Day,
Jacques Bremond, le boss of "Le Cri du Coyote", the best french magazine about
Americana, Jean-Pierre and Jean met in USA (thank you Gail, Tom and François),
Christian Labonne from Mary & Co, Jacques et Michèle, our producers, and many others.
We made a picture of musicians from Btittany.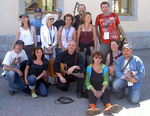 We were proud and honored to be invited at this festival.
If we don't really play bluegrass, we are much respectfull about this music.
We feel in the Americana stream, that's why we go prtty often to the
Merlefest in North Carolina.The audience was very quiet and respected
music. The only times we decided to go to town have a drink were when
the line dancers shaking their boots on techno/country counting out
of time. It was too much for our musician ears.
We are happy to give you to links of most of the bands who were there.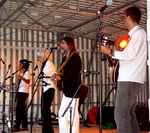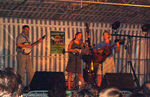 Moonshine (Grande Bretagne - France)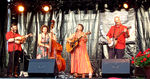 New Lowland (Pays-Bas)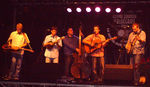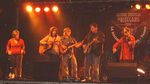 3 Fox Drive (USA)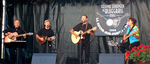 Cabine 12 (France)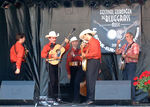 Jacques Danielle's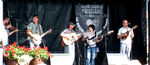 Grassroad (Tchéquie)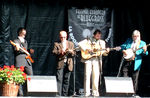 Grunt (Slovaquie)
Sidlo (Slovaquie)
Toy Hearts (Grande Bretagne)
Country Cocktail (Tchéquie)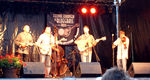 G-Runs & Roses (Tchéquie - Slovaquie - Pays Bas)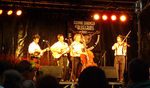 Acoustic River (France)
Monogram (Tchéquie) - vainqueurs du concours 2008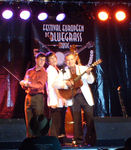 Kralik and his rowdy rascals (Tchéquie) - vainqueurs du concours 2007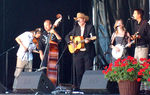 Freja Bluegrass Band (Suède)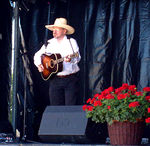 Grassroot Philisopher (Allemagne)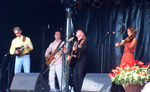 Finestreet (Russie)
New River Train (Autriche - Tchequie)
and Mary-Lou (France), pictures Jacques Goascoz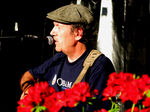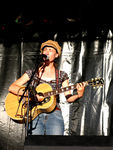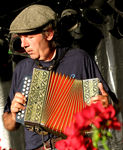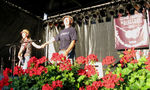 07-20-2008
Friday 18 of july at 9, at the camping des 2 Fontaines in Névez, our friend Rob (The Doc) Dokter joined us on stage a few amotionnal songs.

The Doc, dutch singer and guitar player, is not only a friend, but also a very good musician.
He's a great songwriter with a warm voice, and he sometimes has been compared to Neil Young.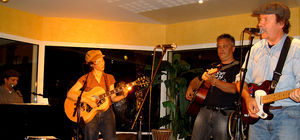 He often playes on the french stages, and played many times with Mary-Lou, especially for the festival "Non à la Dépression" for the tenth birthday of the band. (c.f. site Mary-Lou).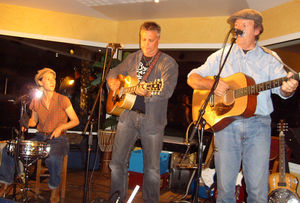 It is on that same stage of the Camping des 2 Fontaines that we met him 9 years ago ! We played "Hello Mary-Lou" together, so we played it also last friday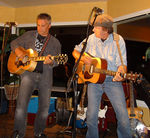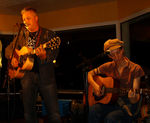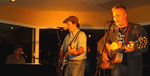 Warm ambiance and friendly welcome from Hervé Le Talec and his wife, the owners of the camping that we thank very much.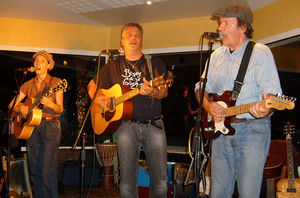 Warning : For the ones who weren't there friday, last and only concert with The Doc Monday July 21st at the Camping du Letty in Benodet at 9. Free admition.
We left thursday morning for a long drive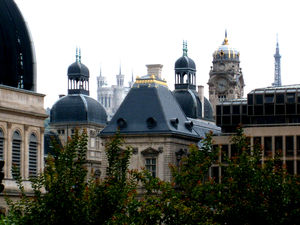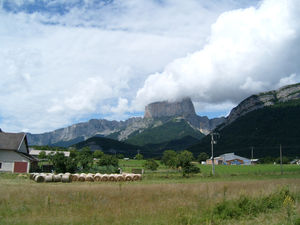 Landscapes of the Alpes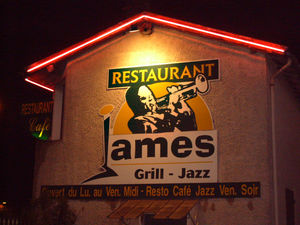 to go, after a little rest to sleep, to our buddies of the Jame's Café in Toussieu near Lyon.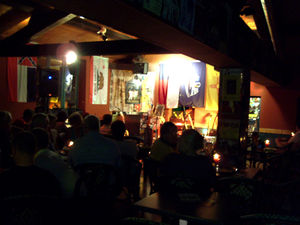 For 6 years, we have been playing in this small show room where the ambiance has allways been warm and friendly. Unfortunately, like many others, this temple of live music will close, stangled by administrative troubles, and the "nothing to care" of the politics.
Si it was a friendly but also nostalgic night. Thanks to Gonzague and all his staff who will allways keep a place in our heart.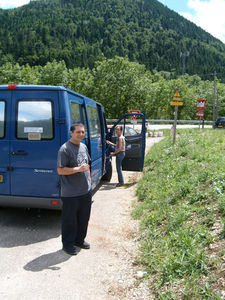 But the show must go on, and saturday, after a short night, we were "on the road again" bound to St Maximin la Sainte Baume, in the Var, invited by the town.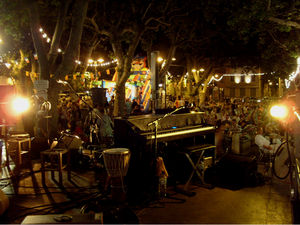 A very fine place, a pretty little town of the south-east of France, and a very pleasant concert with a very big audience. Thanks to everyone.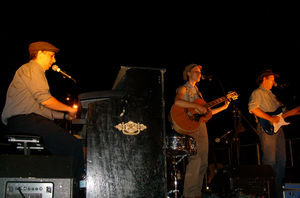 Way back in Brittany on monday with a draw offered by a young fan. Copyright Mia Heurteaut 2008.
06-30-2008
Very long week end for Mary and Jean-Luc ...
Everything began friday 27 in Audierne (29) at the Hotel de la Plage, for a private concert !
Fine meal, but strange atmosphere in this restaurant very "vieille France" . Anyway, our hosts were very pleased, and we did too.
Saturday, Mary-Lou (Mary, Jean-Luc and Stéphane) were playing in Ecommoy (Sarthe). A fine restaurant very friendly, "La Ferme d'Eugénie", offering very good food and great moments of music. The staff is wonderful (thanks to Arlette and Johny). Fine audience who likes to have fun and listen and appreciates music .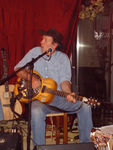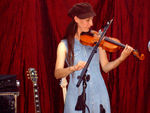 And Sunday 29 in St Brieuc, Espace Commercial St Lambert.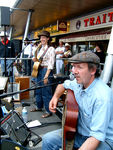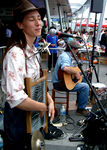 The "association des commercants" was putting on for the second year a country week end.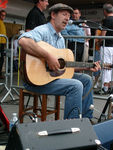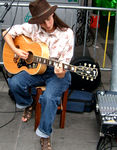 A very good and generous idea for this association with a social and humanist feeling.
We needed that to be on stage at 10 am as we were still in Le Mans at 2.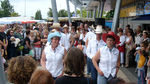 A great pleasure for us anyway to meet again the organizers, the sympathetic characters of the area, and the dancers of the "Color Hats" club. We had very good memories of last year, and it was fun to see them.



Everything ended, like in "Asterix", not by a fish battle, but by a good meal...
05-08-2008
Thursday Mai 1st, Mary-Lou has been playing in Pensacola (Floride) for the public radio WUWF. You can listen to the show here :
Trish Musgrove (Mississippi songwriter)
Tammerlin (Folk roots)
Mary-Lou (Americana with a french twist)
and
Trish Musgrove (Mississippi songwriter)
Tammerlin (Folk roots)
Mary-Lou (Americana with a french twist)
04-26-2008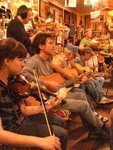 Midnight.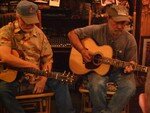 Back to our friend's from a dream evening with the best musicians of the area (The Kruger Brothers, Wayne Henderson and many others ) at the Cook Shack in Union Grove.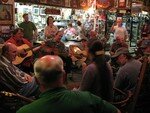 We played some songs and full up our ears.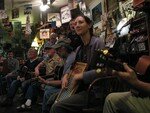 Some of the jammers were 9 and 11 years old.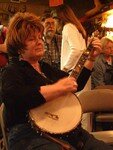 04-20-2008
Wonderful audience at the University of North Florida in Jacksonville, Wednesday evening for our 1st concert of this tour. One of the french teachers, Shira Schwam-Baird, a friend of our Tammerlin buddies had invited us, to play our songs and covers, mostly in french.
An audience made of students, teachers, and lovers of french, very attentive, perfect acoustic, warm welcome and very friendly and pleasant evening. lee and Arvid joined us at the end of the show to play "Suzanne", "J'ai mal aux pieds", and "Meet me in New orleans", one Lee's song of Tammerlin last cd.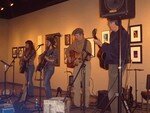 Sorry, but it is very long to send pictures. That why there are only a few.
After the University, a lovely coffe house, here in Jacsonville, The European Street.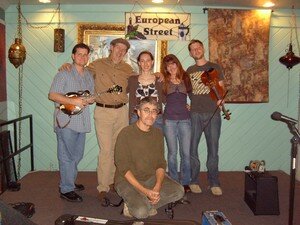 Then a long drive North up to Charleston (South Carolina) where we played at the "Unitarian Church" for an audience very carreful, and a little bit surprised to hear some famous songs with french words.
We slept in Charleston and early in the morning, we have been driving back to Jacksonville and Ormond Beach where we played at "The Bookstore", a wonderful place. Chuck, the boss tried Mary's washboard, he's such a kind guy.
Our version of Suzanne with Mary and Lee singing is great.
Tomorrow, monday, we are going to North Carolina and Tennessee for a few days of rest. Then we'll be back in Florida (Pensacola) the 1st of May for a radio and a TV show, before the Gamble Rogers Festival.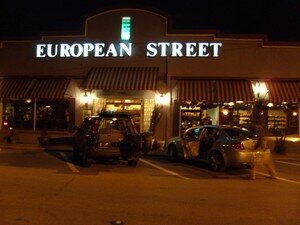 04-10-2008
Our new pics by Jocelyn Lecocq
04-02-2008
From time to time, new pics have to be made... ! So, here's for you : some pics (by Mary), just as a memory of our setting up !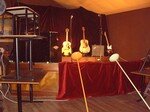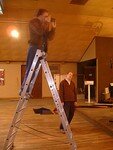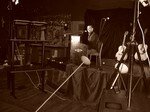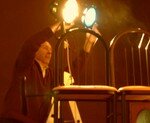 Soon the official pics, by Jocelyn Lecocq .