05-23-2015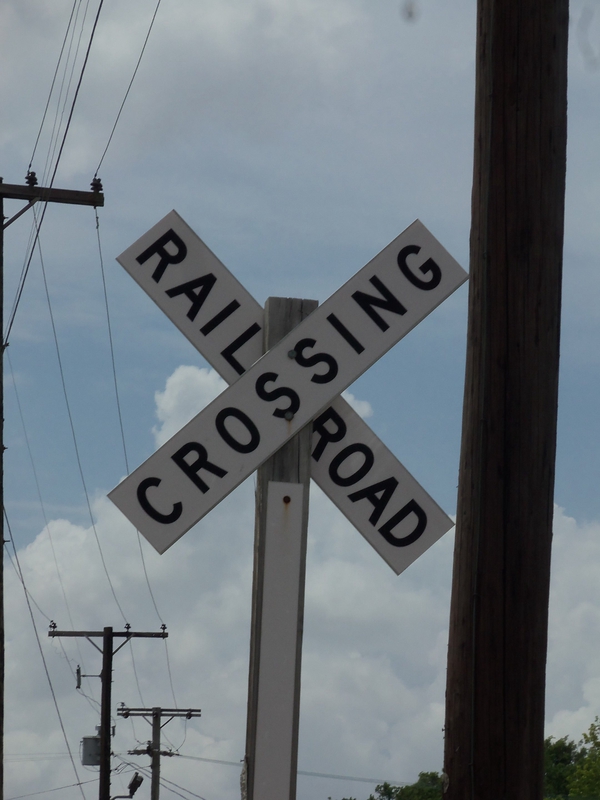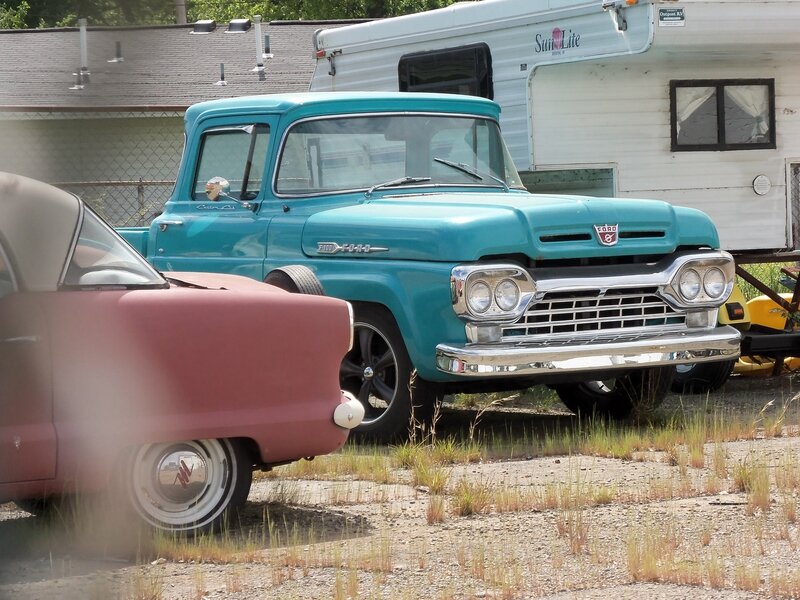 We took our time to see l'Arkansas, and we arrive in Jacksonville near Little Rock where our buddy Steve Evans owns since 40 years the biggest music store around. He has hundreds of guitare to sell, and he has an incredible museum with many cowboy guitars. He is the specialist of the question and he wrote a book on that.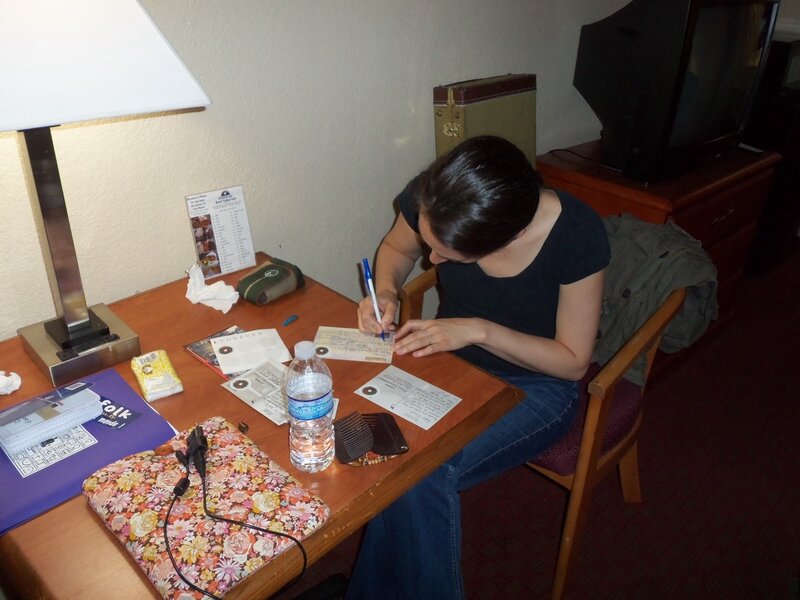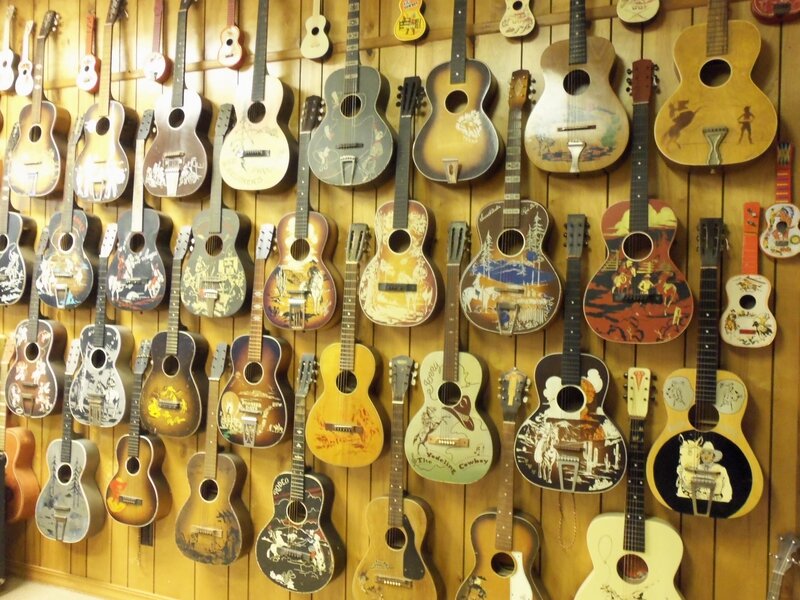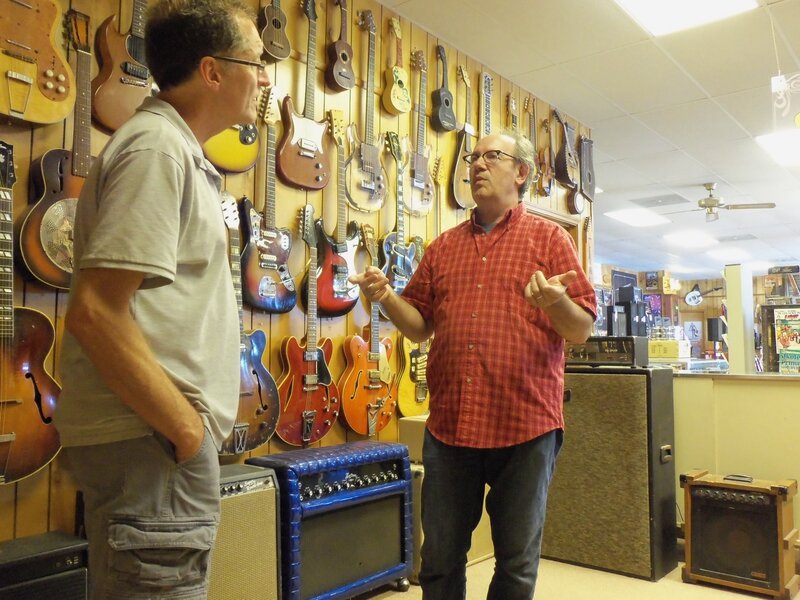 We're glad to seem him, and also his brother David Evans who plays mandolin and fiddle and David the bass player, five years after our Cowboy's Sweetheart video together.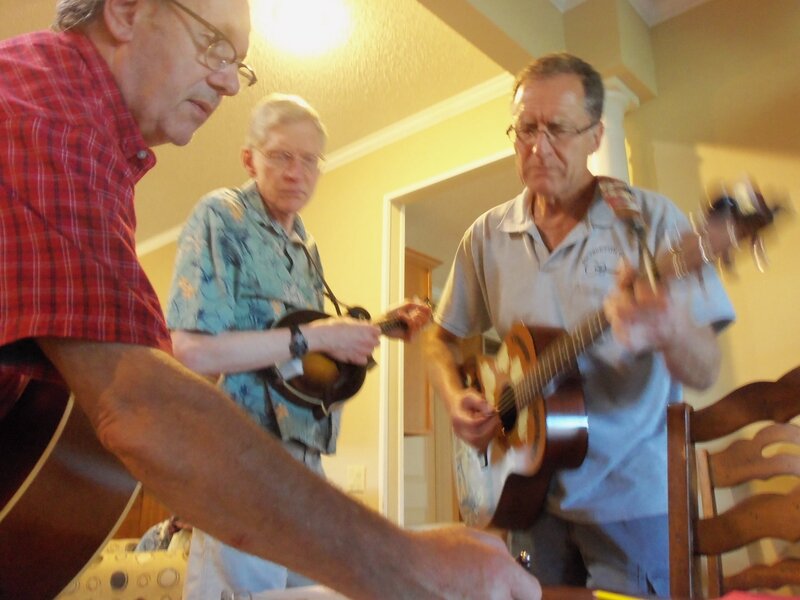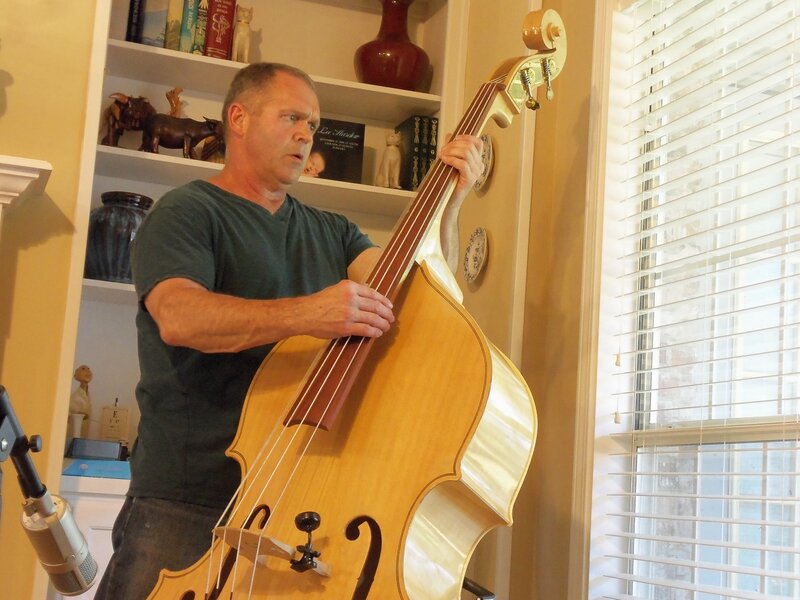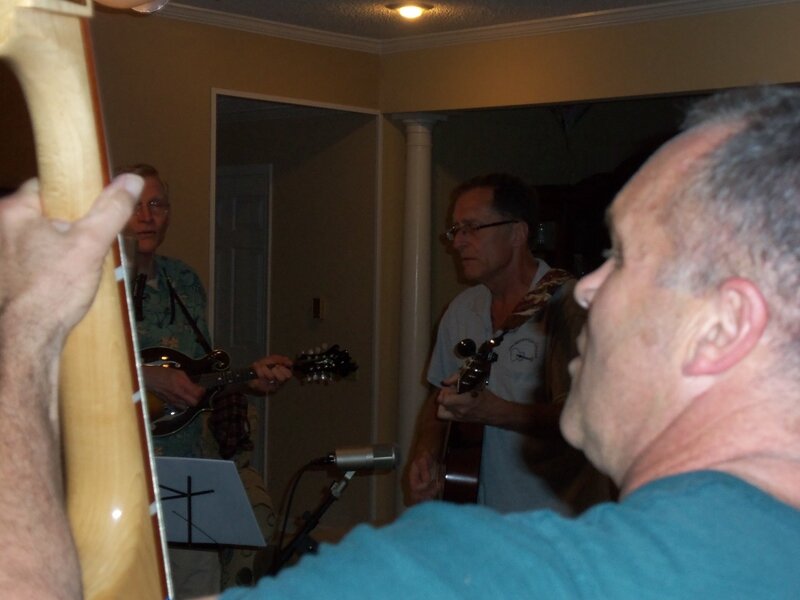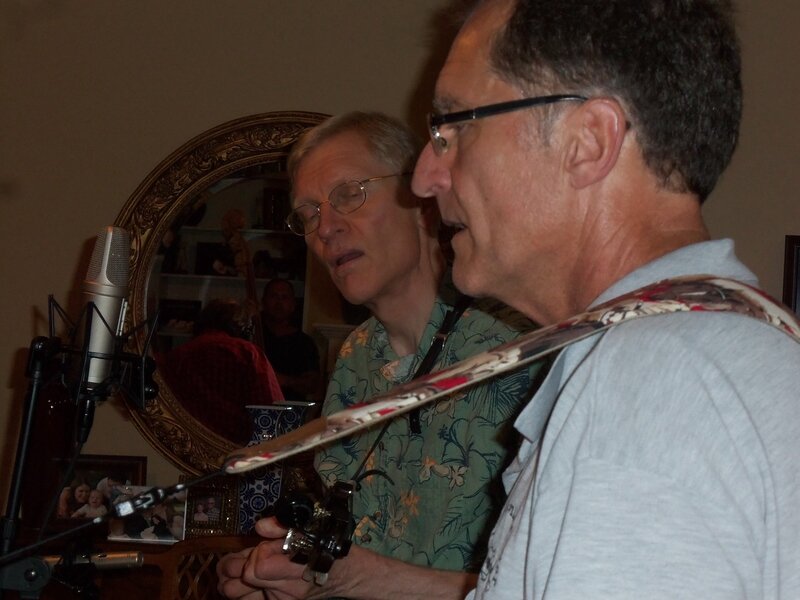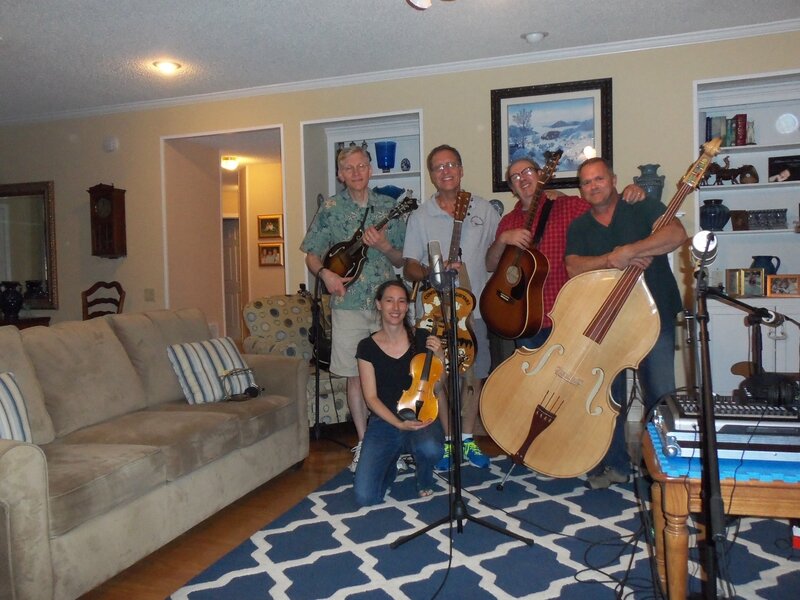 We rehearse Peach Picking Time In Georgia and I'll Fly Away. Finally we also records Make Me A Pallet On Your Floor. All is fine, and our project begins to exist.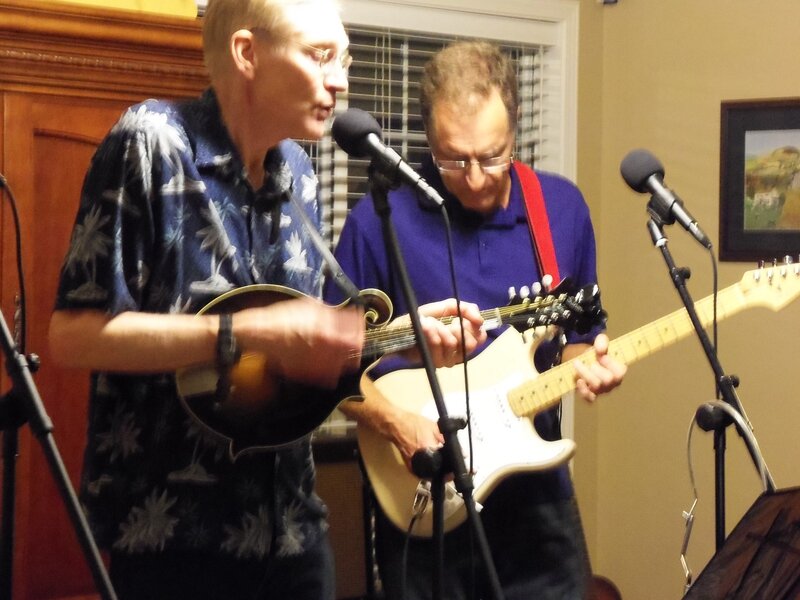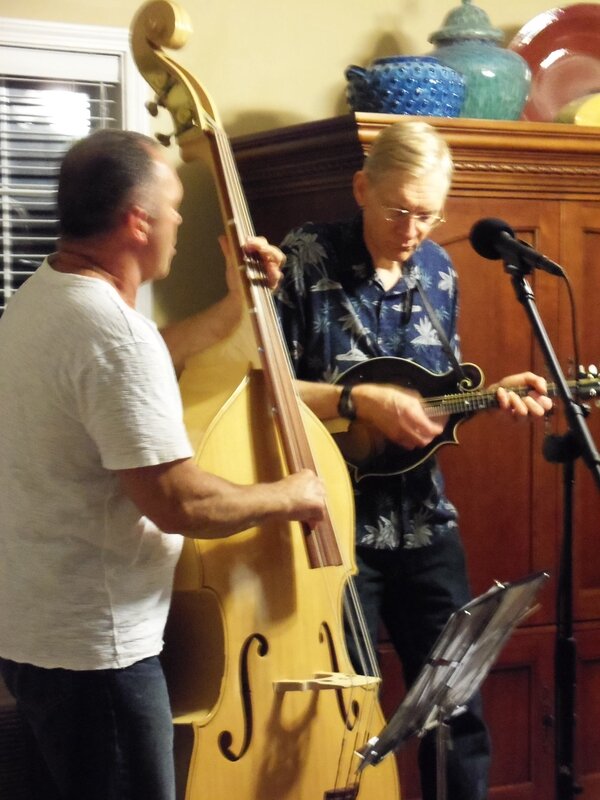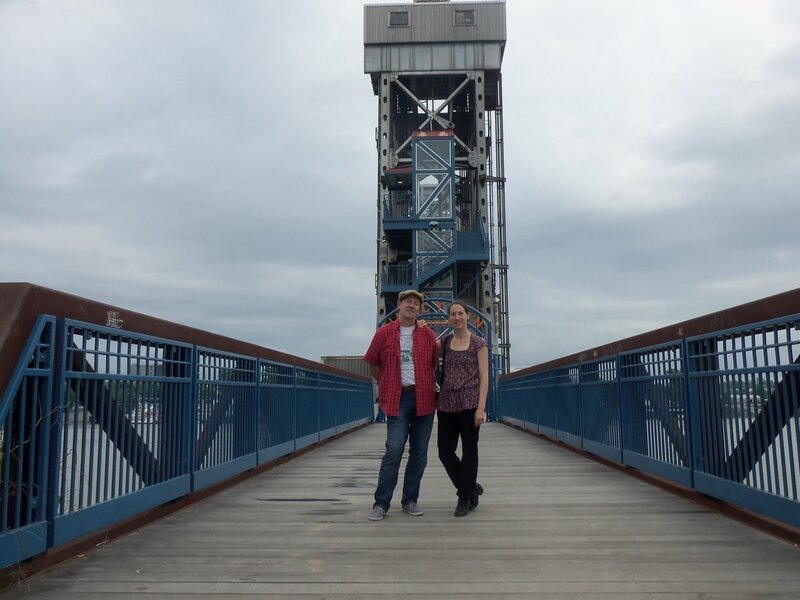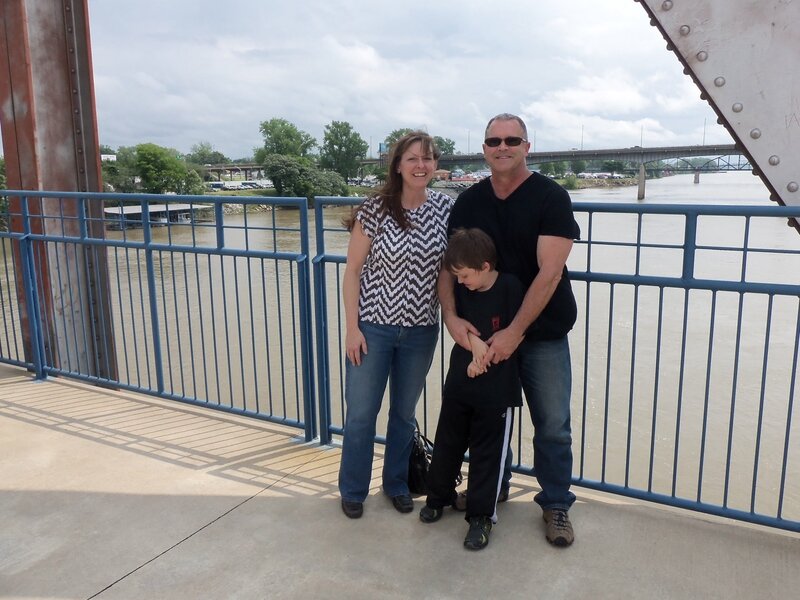 Saturday, we go to visit Little Rock, a modern and friendly town nd at night we have a private concert with the Bombers. Very nice.
Jocelyn on his side works on the booklet of the album, with the help of Wilfrid Cadet and Marie Beney who draw from the pictures we take.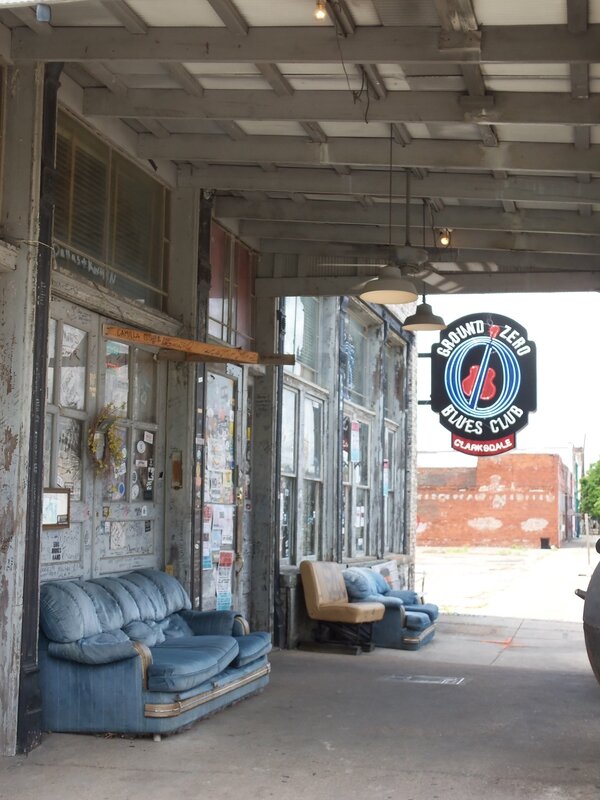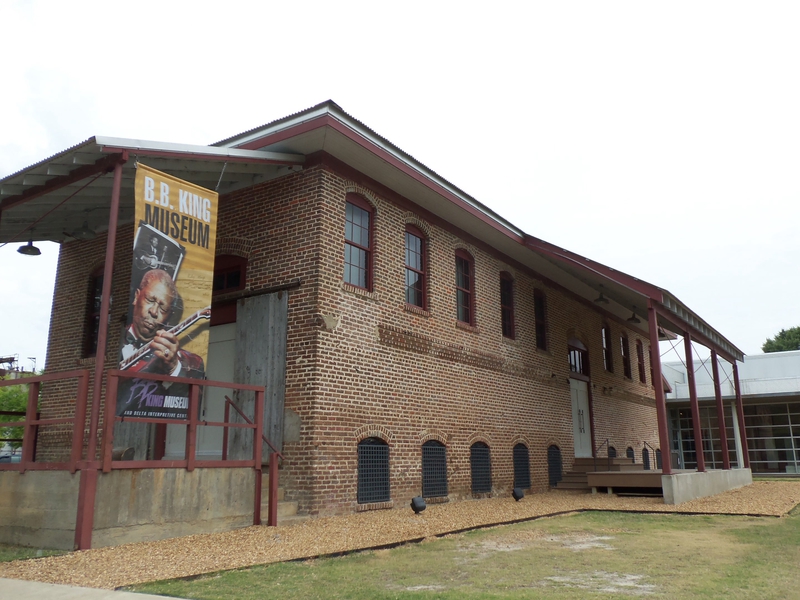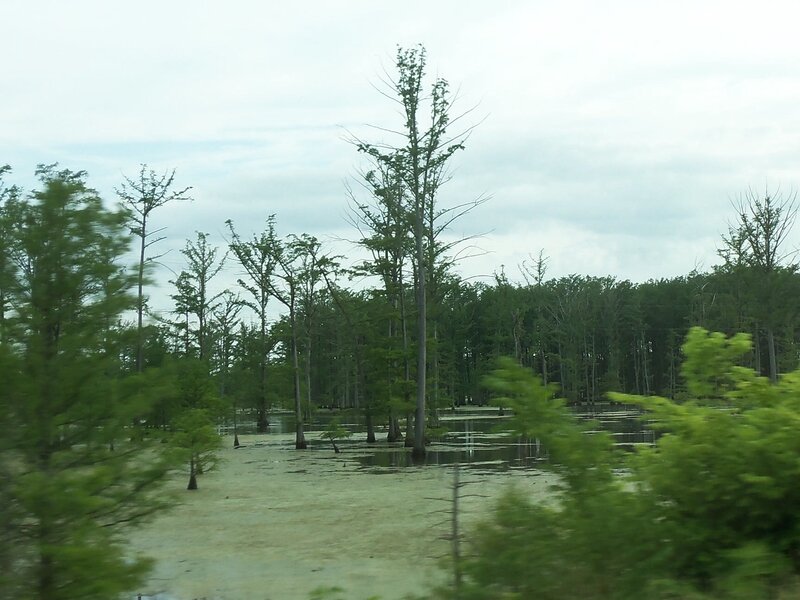 Today, sunday, we leave for Jacksonville Florida. We stop in Clarksdale, MS, then in Indianola, in the Delta to breathe the air of the blues.
This night we will sleep in Meridian, the town of Jimmie Rodgers.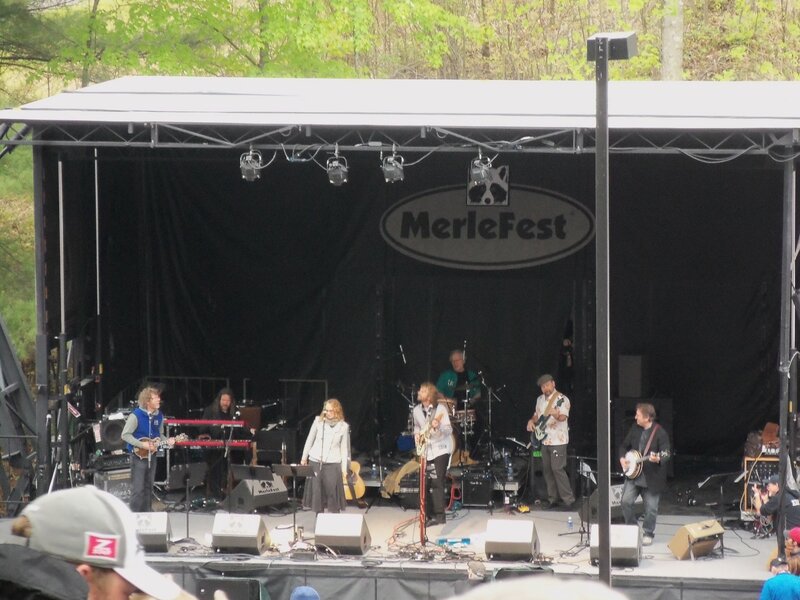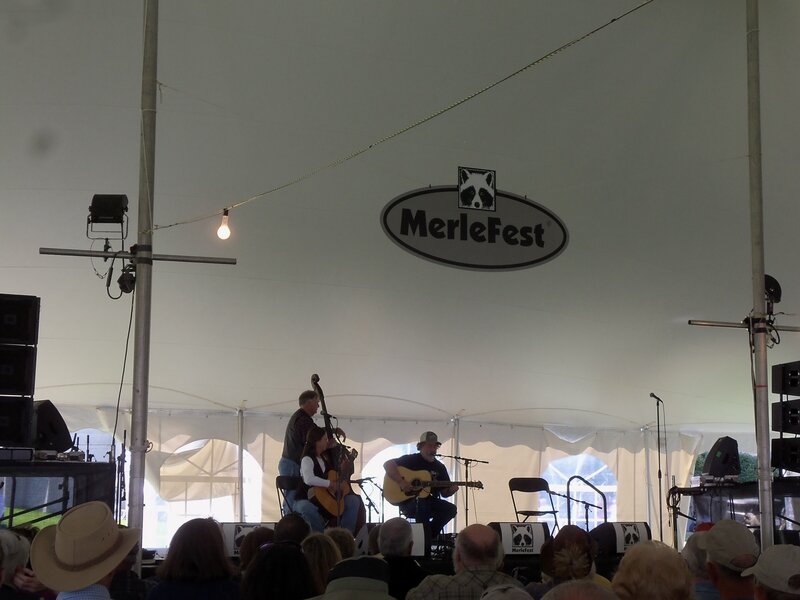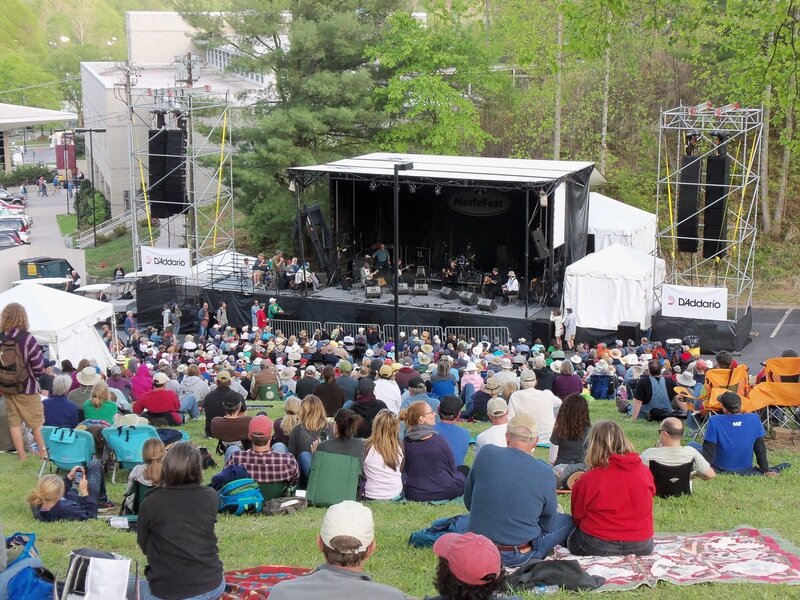 Merlefest
We spent 3 days in that wonderful Festival where we love to go. You can't hear everything. Our favorite bands in the ones we heard
The Honey Dewdrops :
The Stray Birds who played in our studio a few years ago
The Honeycutters :
The Steel Wheels :
The Kruger Brothers
Tonight we have recorded 2 titles with Gail (banjo) and Tom (guitar). Two traditionals : Fly Around My Pretty Little Miss and When You And I Were Young Maggie.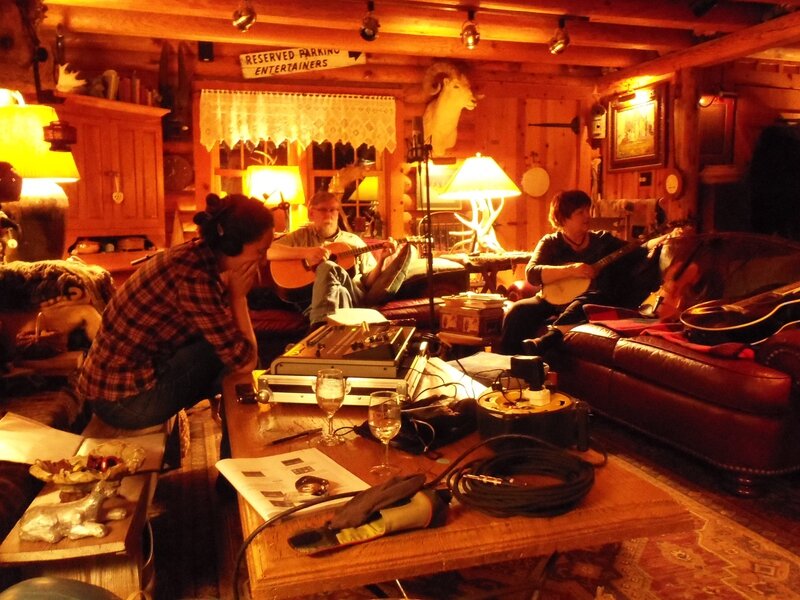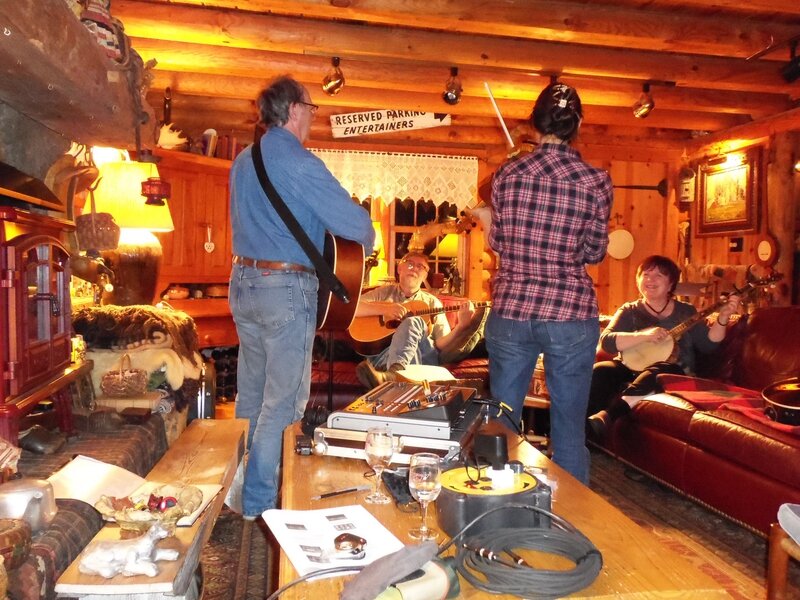 The TASCAM DP24 and the mics work perfect. Tomorrow it's gonna be Wayne Henderson and Helen White.
10-15-2011
Here are a few pics of the concert of Wayne Henderson and Helen White in our studio in Brittany, that you can see here. Some vidéos will be on youTube soon. This night has been wonderful, friendly and warm, and all of us will keep wonderful memories. From left to right :
Marion Thébault, Mary, Jean-Paul Raffin, Helen White, Wayne Henderson and Jean-Luc for a song all together at the end of the concert.

07-30-2010
We recorded that Patsy Montana song with The Volleyball Jones Pickers in Jacksonville (Arkansas) on their way back from California to Florida. The Volleyball Jones pickers also called the Bluegrass Bombers are a bluegrass band of 4 very kind guys who are wonderful musicians. David Durham (upright bass), John Lee (vocals, dobro, banjo, guitar, banjobro), David Evans (vocals, fiddle, mandolin) & Steve Evans (guitar, vocals).
Stephane Dhondt, our piano player stayed in france because of the volcano. We had a wonderful time in Arkansas playing music and shooting that clip. Thank you the pickers.
02-05-2010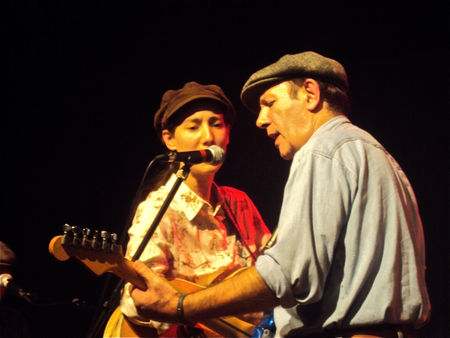 Some pics of our concert in Courcouronnes, november 2009
All the pictures are available here.
01-17-2009
Mary-Lou (just Mary and Jean-Luc) meet the Lonesome Day duet for a very special Bluegrass and Americana concert SATURDAY JANUARY 31th 2009 from 7pm in this magic place La Ferme d'Eugénie in Ecommoy, Sarthe (near Le Mans, France).


Come share this experience with us : 02 43 42 60 65. Site :
08-12-2008
Let's take some time to talk about a wonderful festival : The European Bluegrass
Festival of La Roche sur Foron (74), organized by Christopher
Howard-Williams and a steam of 150 volunteers, with the help of private and public
organisations.
32 bands from European countries were meeting the 1st week-end of august to play on
stage,and jam until morning. The music was the heart of this festival, but it also was
a very special human adventure allowing each one to meet musicians from Russia,
Great Britain, Swede, Tchequia, Slovaquia, Germany, Hollande, Italie, and, of course,
France.Many friends of ours were there. Jean-Paul and marion, from Lonesome Day,
Jacques Bremond, le boss of "Le Cri du Coyote", the best french magazine about
Americana, Jean-Pierre and Jean met in USA (thank you Gail, Tom and François),
Christian Labonne from Mary & Co, Jacques et Michèle, our producers, and many others.
We made a picture of musicians from Btittany.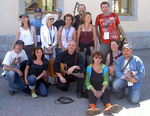 We were proud and honored to be invited at this festival.
If we don't really play bluegrass, we are much respectfull about this music.
We feel in the Americana stream, that's why we go prtty often to the
Merlefest in North Carolina.The audience was very quiet and respected
music. The only times we decided to go to town have a drink were when
the line dancers shaking their boots on techno/country counting out
of time. It was too much for our musician ears.
We are happy to give you to links of most of the bands who were there.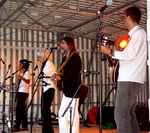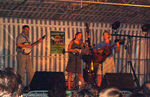 Moonshine (Grande Bretagne - France)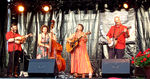 New Lowland (Pays-Bas)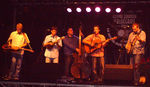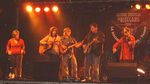 3 Fox Drive (USA)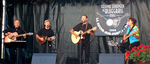 Cabine 12 (France)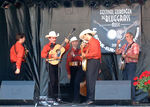 Jacques Danielle's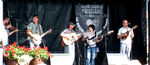 Grassroad (Tchéquie)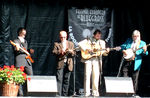 Grunt (Slovaquie)
Sidlo (Slovaquie)
Toy Hearts (Grande Bretagne)
Country Cocktail (Tchéquie)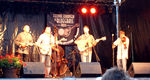 G-Runs & Roses (Tchéquie - Slovaquie - Pays Bas)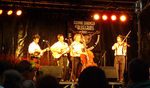 Acoustic River (France)
Monogram (Tchéquie) - vainqueurs du concours 2008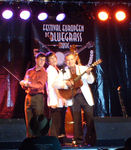 Kralik and his rowdy rascals (Tchéquie) - vainqueurs du concours 2007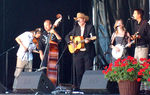 Freja Bluegrass Band (Suède)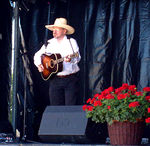 Grassroot Philisopher (Allemagne)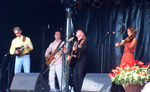 Finestreet (Russie)
New River Train (Autriche - Tchequie)
and Mary-Lou (France), pictures Jacques Goascoz