08-12-2008
Let's take some time to talk about a wonderful festival : The European Bluegrass
Festival of La Roche sur Foron (74), organized by Christopher
Howard-Williams and a steam of 150 volunteers, with the help of private and public
organisations.
32 bands from European countries were meeting the 1st week-end of august to play on
stage,and jam until morning. The music was the heart of this festival, but it also was
a very special human adventure allowing each one to meet musicians from Russia,
Great Britain, Swede, Tchequia, Slovaquia, Germany, Hollande, Italie, and, of course,
France.Many friends of ours were there. Jean-Paul and marion, from Lonesome Day,
Jacques Bremond, le boss of "Le Cri du Coyote", the best french magazine about
Americana, Jean-Pierre and Jean met in USA (thank you Gail, Tom and François),
Christian Labonne from Mary & Co, Jacques et Michèle, our producers, and many others.
We made a picture of musicians from Btittany.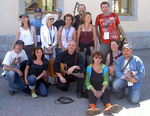 We were proud and honored to be invited at this festival.
If we don't really play bluegrass, we are much respectfull about this music.
We feel in the Americana stream, that's why we go prtty often to the
Merlefest in North Carolina.The audience was very quiet and respected
music. The only times we decided to go to town have a drink were when
the line dancers shaking their boots on techno/country counting out
of time. It was too much for our musician ears.
We are happy to give you to links of most of the bands who were there.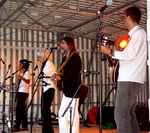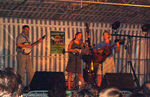 Moonshine (Grande Bretagne - France)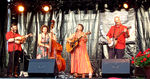 New Lowland (Pays-Bas)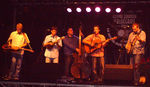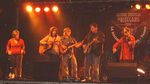 3 Fox Drive (USA)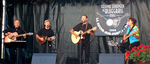 Cabine 12 (France)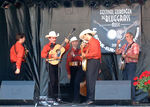 Jacques Danielle's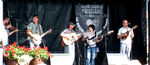 Grassroad (Tchéquie)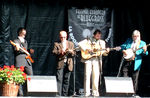 Grunt (Slovaquie)
Sidlo (Slovaquie)
Toy Hearts (Grande Bretagne)
Country Cocktail (Tchéquie)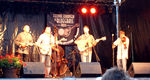 G-Runs & Roses (Tchéquie - Slovaquie - Pays Bas)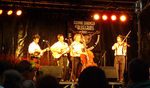 Acoustic River (France)
Monogram (Tchéquie) - vainqueurs du concours 2008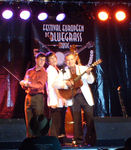 Kralik and his rowdy rascals (Tchéquie) - vainqueurs du concours 2007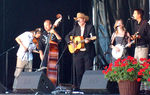 Freja Bluegrass Band (Suède)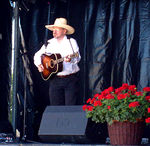 Grassroot Philisopher (Allemagne)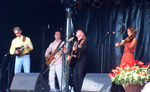 Finestreet (Russie)
New River Train (Autriche - Tchequie)
and Mary-Lou (France), pictures Jacques Goascoz