02-06-2010
You know we like to play music with friends in France, Europe, and USA as well. We are working on a new show with Marion (voice, harmonica, dobro, lap steel) and Jean-Paul (voice, mandolin, guitar) from the Lonesome Day band of Brittany. Acoustic country, bluegrass, folk, new songs and covers, that we love to play together.
We will play a couple of gigs together each year.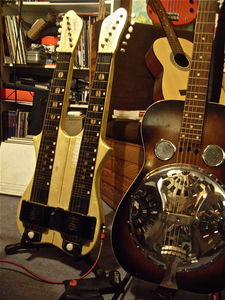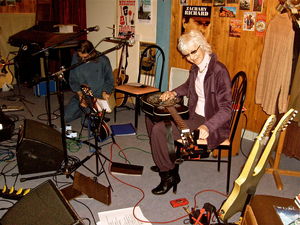 11-11-2008
You have been more than one thousand, sunday november 9th in Plozevet (Finistère), to celebrate with us the election of Barack Obama. THANK YOU YOUR SUPPORT. Your messages of kindness and hope have touched us in our hearts. Now, we want to say to all the volunteers, all the musicians (Paul Conibear,
Lonesome Day, Brendan De Roeck et David Chevalier (from the Dizzy Town Blues Band), Dominique Adelin, Chakidor), to the town of Plozevet, to our friends Pierrot Bosser, Président of the Festival Mondial Folk, Hugues Stephan, General Manager of the Avel Dro and Gail and Gail and Tom Watts, in North Carolina, who answered our qustions about the election, to the medias that supported us, and to all the others, who will recognize themselves, from deep in our heart, a hudge THAN YOU !
Let the musicians who couldn't play because of the timing forgive us.
All the pictures (of Jacques Goascoz and Jocelyn Lecocq) are available in the photograph book left column, or on this link.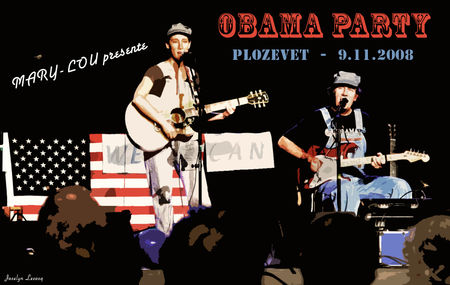 Art work by Jocelyn Lecocq
10-29-2008
Mary-Lou organizes a party for Barack Obama's victory november 4th 2008. Everyone who - like us - is strongly hopping it will happen is invited.
Rendez-vous in Plozevet (29) SUNDAY NOVEMBER 9th Avel Dro Room at 3 PM. Free participation to the fees.
With many bands :
Hoboes (acoustic country, folk, blues)
Lonesome Day (traditional country music)
Mary-Lou (Folk song)
More informations in the days coming.