04-08-2013
Wednesday april 2 we were at the Tammerlin 20th anniversary celebration concert with many guests.
Mary sung with Lee on "Meet me in New Orleans", I habe been participating at "See that my grave is kept clean" and, all of us, we ended the show with a beautiful Dylan song that Arvid sings like nobody elses "Nobody can sing the blues like blind Willie Mac Tell". We met many friends there, it was great. Thanks Tammerlin.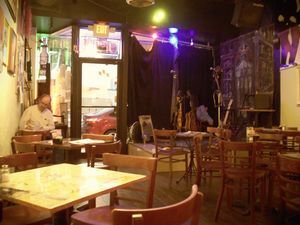 The Luna Star is the only place in Miami dedicated to folk music. We are glad to meet Alexis and Keith. A small lovely room, with good acoustic, a friendly audience, a wonderful listening. We talk with people about music, politics, .... Some are musicians, like the duet "Box of light, Music that helps you feel good and think well". All of them are interesting. The next day, rendez-vous at the Gram's Place, in Tampa, a kind of youth hostel holded by Bruce a lovely guy who became a good friend of us.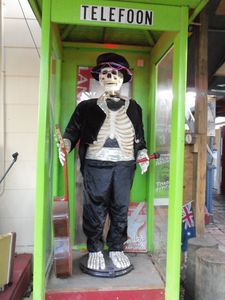 The name of this place comes frm Gram Parsons, a wonderful musician who died in tragic circonstances. The project began with Mark, Bruce,s brother. He died too early and Bruce keeps his dream alive. Two woman take the boat for Europe next day. There is a young woman from Brest. Lovely athmosphere. We dring some beers and talk with Bruce, and he shows us the dress Emmylou Harris was wearing on the cover of an album.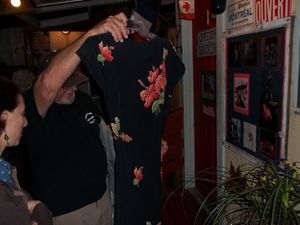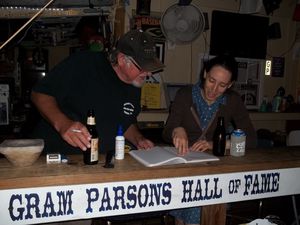 He want us to listen to his friend from Australia australienne Audrey Auld that we already know thanks to our friend Roland of Rouen.
Next step North Carolina.