01-31-2015
Since february 1st we have launched on Ulule a crowdfunding campaign to help finance our new project : next may,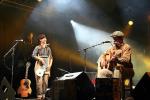 the Hoboes (Mary and Jean-Luc) will record their next album with wonderful friends and wonderful musicians :
In Florida : Lee Hunter, Arvid Smith, Elisabeth and Lon Williamson, Charley Groth

In North Carolina : Gail and Tom Watts
In Virginia : Helen White and Wayne Henderson
In Tennessee : Panama Red
In Arkansas : the Bluegrass Bombers
13 days before the dead line, we have reached our first 3000 € goal. You can still get on board with us by supporting us on Ulule.

10-13-2013
Here are a few videos from our US tour in spring. Thanks to Geo. Perzel, to Gail and Tom Watts and to Miles and Pal. Enjoy !
08-29-2013
Several years have spent since our last show in Tréboul on the beautifus site of the Rheun.
We were there friday août 9, hosted by Norbert Joncour and the Comité des Fêtes of Tréboul.
Audience a bit shy, beautiful landscape, it's good to see Brittany again. Jocelyn was here and he made a few pics :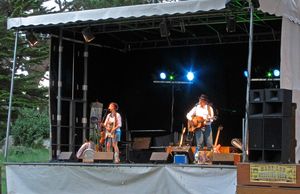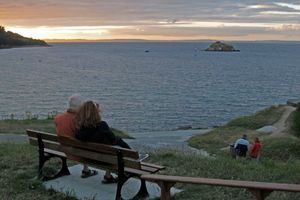 Monday juily 22 we were under the Medoc sun for a show at the Western Village of d'Hourtin (33).
It's avery special place that Arnaud and his team have created with buildings and western style. A lovely place where you can ride horses and spend holidays. We used to play there 10 years ago. The audience made a warm welcome to us.
Here are some pics Mary made: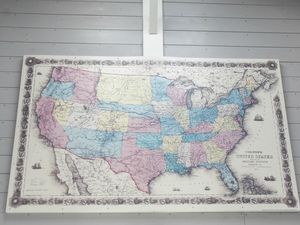 08-24-2010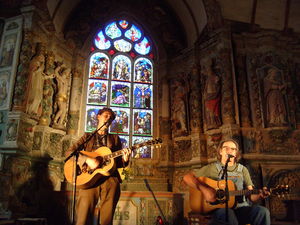 We played last saturday in St Ségal (Finistère). This small town near Châteaulin had invited The Hoboes to play their "Country Tales and Train Songs" in the St Sébastien Chapel. A hundred of people were there. You can visit that extraordinary building for free untill the end of August.
A lovely audience and a great night.
Thanks to the town and to Virginie Foutel who is in charge of the booking.