05-26-2013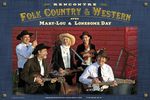 The five musicians of Lonesome Day and Mary-Lou will be on stage saturday june 8th at 22h15 for a big commemoration concert of june 6th 1944. This year is the 69th anniversary it will be in the village of Ste Mère Eglise (50) and it's free.

Our "Rencontre Folk, Country et Western" will perfectly fit to the spirit of this fest, as we will play songs from our cd, and more. On our set list : western swing, traditional country, folk songs, ...
We can't wait to meet you there.
Mary : vocals, guitar, fiddle, washboard
Marion Thébault : vocals, dobro, steel, harmonica
Jean-Luc Brosse : vocals, guitars
Jean-Paul Raffin : Vocals, guitar, mandoline
Stéphane Dhondt : vocals, piano, organ.
Also, at 20h30 : EDF , à 23h30 fireworks, and at midnight dance with Curaçao Blues.