02-02-2012
Saturday january 28th, at Les 4 saisons, Saint Martin en Haut in the mountains near Lyon.
In this pretty village, Jean-Luc spent the summer holidays of his youth. It's there he heard for the first time "Honky Tonk Woman". That's also the place he wrote his firsts songs.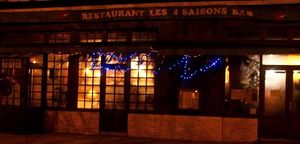 Here are some pics of this friendly and nostalgic concert. Jean-Luc met some old friends, and since winter was outside, we were inside eating some choucroute and playins some appalachian ballads. Thanks Tom, the cooker, and all the staff.
We drove back to Brittany under the snow. It's winter ...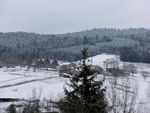 09-12-2011
The Stray Birds in the Mary-Lou studio
The Stray Birds played in our studio sunday 2011/09/04, on their way back from England to Pensylvania. A small house concert friendly and great music. Maya and Oliver are very fine musicians, and kind people. They stayed one day with us in Brittany and left for two days in Paris before flying back.