01-02-2011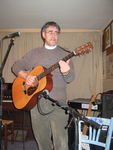 Tuesday december 22th, our friend Arvid Smith of the Tammerlin band was in our studio for a long day of music.
In the afternoon, he gave a wonderful master class to some lucky Jean-Luc's students.
Concert then, solo first, some blues with Jean-Luc, with the band Mary-Lou, and jam with many guests like Cristine, Marion Thebault, Jean-Paul Raffin of the Lonesome Day band, our piano player, Stéphane Dhondt who sung 2 songs of his new piano solo show, and many others.
Arvid, after a few days of private holidays, left Europe on december 28th. We will keep wonderful memories of that day. THANK YOU ARVID !
You can see the pictures here.