06-05-2012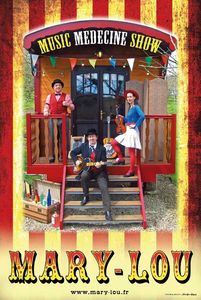 All the samples from our new album "Music Medecine Show" are available above.
Let us know what you think about this record. at : louisebell@orange.fr
La_Chaleur_et_la_Lumiere (sample)
La_Maison_des_Johnson (sample)
Laissez_nous_respirer_(sample)
Patsy / You belong to me / Patsy (sample)
Le_Blues_de_la_Chaussette_Solitaire_(sample)
03-26-2012
We are working hard on the recording of our new songs, and here are some pics.
Benoit Perset just recorded the drums on 10 of the 12 titles that will be on the cd. Jean-Luc is done with the bass takes with his new Precision ! Mary played the guitar on 3 songs. Stephane joined thursday to begin his takes of piano and organ. 4 songs in the day, not bad. But we have to send all the tracks to Pete Winter, in the Talahassee Winterstone Studio , for the mix and the mastering at the beginning of aplril ... Well, let's not panic, we got to speed slowly !
A last minute guest, Dominique Adelin, Mary's fiddle teacher, is gonna play fiddle on one song...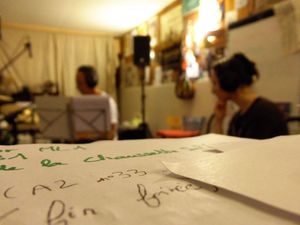 04-26-2011
We were honored to play at the Cook Shack, Union Grove, NC, one of the famoust venues of NC. We had a great pleasure playing our songs ans americana covers in front of an audience that know each single word of the songs.
A few videos of our friend Tom Watts