11-11-2008
You have been more than one thousand, sunday november 9th in Plozevet (Finistère), to celebrate with us the election of Barack Obama. THANK YOU YOUR SUPPORT. Your messages of kindness and hope have touched us in our hearts. Now, we want to say to all the volunteers, all the musicians (Paul Conibear,
Lonesome Day, Brendan De Roeck et David Chevalier (from the Dizzy Town Blues Band), Dominique Adelin, Chakidor), to the town of Plozevet, to our friends Pierrot Bosser, Président of the Festival Mondial Folk, Hugues Stephan, General Manager of the Avel Dro and Gail and Gail and Tom Watts, in North Carolina, who answered our qustions about the election, to the medias that supported us, and to all the others, who will recognize themselves, from deep in our heart, a hudge THAN YOU !
Let the musicians who couldn't play because of the timing forgive us.
All the pictures (of Jacques Goascoz and Jocelyn Lecocq) are available in the photograph book left column, or on this link.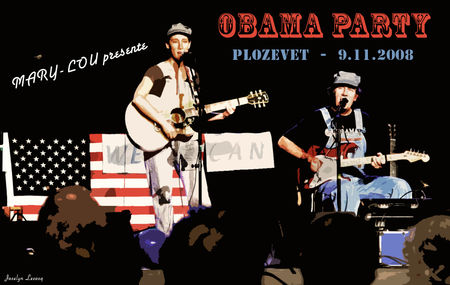 Art work by Jocelyn Lecocq