04-07-2015
April Mary-Lou tour in Florida :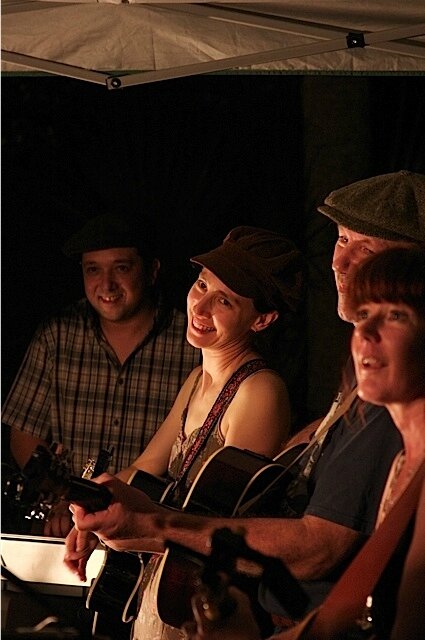 The french trio will play :
. thursday april 16th 2015 : Ponte Vedra - JJ's Liberty Bistro - 6:30pm
The shoppes of Ponte Vedra - 330 A1A North - suite 209 - Phone : (904) 273-7980
. friday april 17th 2015 : Neptune Beach Music in the Courtyard - 7pm - with Lee Hunter and Joey Kerr

Lillie's Coffee Bar - 200 First Street Neptune Beach - Phone : 904.249.2922
. saturday april 18th 2015 : Jacksonville - Riverside Arts Market - 12 to 2:15 - with Lee Hunter and Joey Kerr
. saturday april 18th 2015 : Jacksonville - Mudville Grille - 7:30 to 9:30 pm - with Lee Hunter and Joey Kerr

Mudville Grille Complex 3105 Beach Blvd & 3104 Atlantic Blvd. (where Atlantic & Beach Blvds. merge) in Jacksonville, Florida - Reservations (904) 352-7008 or email FlaMusic@bellsouth.net
. sunday april 19th 2015 : Miami (WLRN Radio Michael Stock Show) - 2:00
listen online on http://player.wlrn.org.
. sunday april 19th 2015 : Miami - The Luna Star - 8:30pm - 775 Northeast 125th Street, North Miami, FL 33161, phone : (305) 799-7123

Mary-Lou with Lee Hunter (USA 2011 / photo Michael Rutledge)
04-06-2015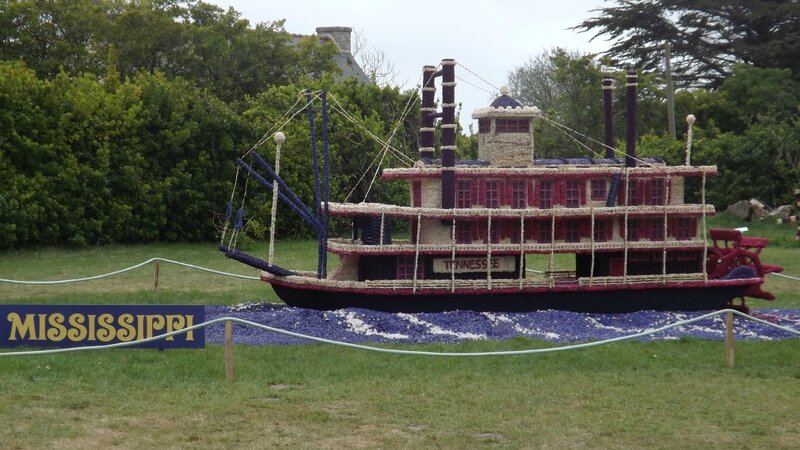 A nice Mississippi steamboat made with flowers at our friends Kaandorp in Plomeur
D-1 before we take off.
Here is our schedule so far :
wednesday 8th : train to Roissy
thursday 9th : 9h25 plane to Orlando - arrival at 5:40 local time - road to Jacksonville
friday 10th : show of the Mavericks in the Florida Theater.
monday 13th : Tom Paxton in Clearwater and night at Gram's Place (Tampa) where we will play as a duet may 16th.
thursday avril 16th, show Mary-Lou in Ponte Vedra
friday avril 17th : show Mary-Lou in Neptune Beach
saturday avril 18th : show Mary-Lou in Jacksonville Riverside in the morning, and Mudville Grille at night
sunday avril 19th: interview and showcase at WLRN, Miami in the Michael Stock Show at 2. You can listen to the show on http://player.wlrn.org/. At night, show in theLuna Star in Miami.
thursday avril 23th : Stephan flies back to France, and Mary and Jean-Luc take the road to North Carolina for the Merlefest.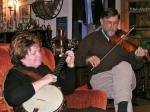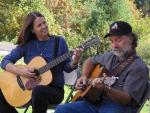 monday and tuesday april 27th and 28th, we begin the recordings with Gail et Tom Watts, old pals. Also, the two days, recording with Wayne Henderson et Helen White in the Virginia hills. We're glad and honored to record with all that people ...
friday, may 1st : We're gonna join Panama Red, for a gig in Cullman, Al, at the Berkeley Bob's.
saturday and sunday may 2nd and 3rd : recording with Panama.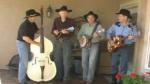 friday mai 8th : record with the Bluegrass Bombers in Arkansas.
saturday may 9th: Jacksonville (Arkansas) concert with the Bluegrass Bombers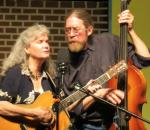 tuesday and wednesday may 12th and 13th : recording with Elisabeth et Lon Williamson in Florida.
Thursday may 14th, no rest, we're with Charley Groth.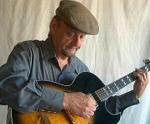 saturday may 16th : back to Tampa for a duet gig at Gram's Place.
wednesday may 20th : plane from Orlando to Paris !

In the "free time" we'll have the great pleasure to record with Lee Hunter et Arvid Smith, some of the songs that we shared on stage in the past, and maybe, if we can, we'll try to see Pete Winter, the sound wizard who will mix the album in Tallahassee.
Stay tuned, more informations soon !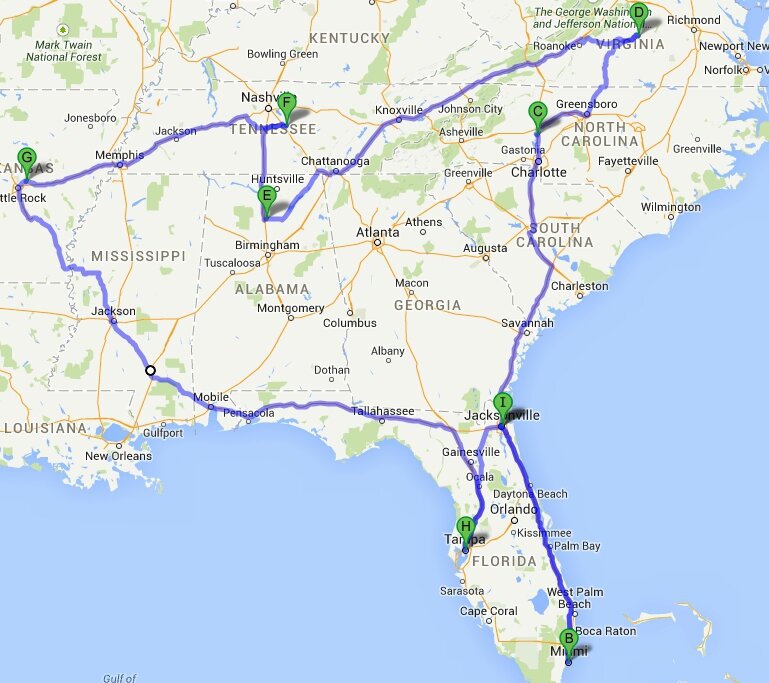 12-13-2014
Hello everybody ...
We are glad to announce that the Mary-Lou band is gonna play in USA in april 2015 : Mary, Stephane and Jean-Luc.
Check our concerts page to have the last news.
Up to date, we have booked the friday 27th in Neptune Beach, north Florida, and the sunday 29th in Miami (the Luna Star). We will have more gigs to announce in the next days.
Thank you for your support
03-14-2013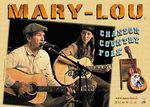 We will be on tour in Florida and North Carolina next April, just as a duet, Mary and Jean-Luc with our own songs, folk, americana with a french touch, and covers of the great songwriters we love like Arlo Guthrie, Jimmie Rodgers and many others.
It's a great pleasure for us to be back in USA, and to meet again our friends of the Tammerlin band.
Check our dates in the schedule section.
Hope to see you there.
06-05-2012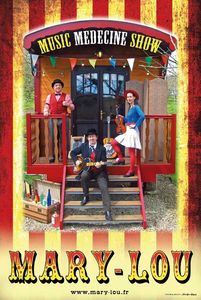 All the samples from our new album "Music Medecine Show" are available above.
Let us know what you think about this record. at : louisebell@orange.fr
La_Chaleur_et_la_Lumiere (sample)
La_Maison_des_Johnson (sample)
Laissez_nous_respirer_(sample)
Patsy / You belong to me / Patsy (sample)
Le_Blues_de_la_Chaussette_Solitaire_(sample)
04-22-2012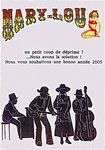 Since we began in 1996, we fight against the sadness around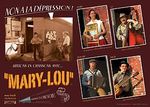 Our posters in 2004 were saying "Let's sing and fight"
(design : Jocelyn Lecocq)

In 2005, our postcards were promising a "solution against depression" (design by Leslie Bloch and Marchal Mithouard)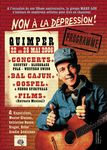 In 2006 the festival organized in Quimper for our 10 years was called : "No Dépression" (design of the poster : Jocelyn Lecocq)
Today Mary-Lou offer to you a new way to happiness :
The Music Medecine Show
Clic here to listen to the jingle (temporary mix)

Thanks to our new formula, the Music Medecine Show, to consume as a cd or live the most often, offers

- to find again your faculties of yesterday and especially your smile

- to fight against paralysis moving your feet

- to find again your old vigour

- to improve your voice singing with us

- many other beneficial effects

Sold without prescription in all the good shops.
The housewife who wish to make her husband happy will offer the Music Medecine Show cd to him !
The head of household style-conscious of the harmony of his home will provide with the cd "Music Medecine Show".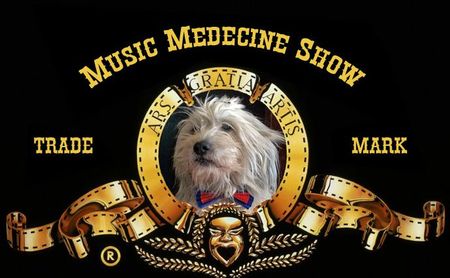 03-26-2012
We are working hard on the recording of our new songs, and here are some pics.
Benoit Perset just recorded the drums on 10 of the 12 titles that will be on the cd. Jean-Luc is done with the bass takes with his new Precision ! Mary played the guitar on 3 songs. Stephane joined thursday to begin his takes of piano and organ. 4 songs in the day, not bad. But we have to send all the tracks to Pete Winter, in the Talahassee Winterstone Studio , for the mix and the mastering at the beginning of aplril ... Well, let's not panic, we got to speed slowly !
A last minute guest, Dominique Adelin, Mary's fiddle teacher, is gonna play fiddle on one song...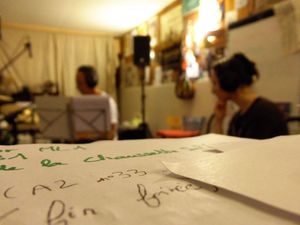 11-20-2011
We'll be in Holland for 4 days november 24th, 25th, 26th and 27th invited by our buddy "The Doc".
If you're around, we'd like to see you there.
Thursday November 24th - Zwolle (NL) - 8 pm - Cafe De Beleving
Friday November 25th - Epe (NL) - 10PM - Cafe Tonnetje

Samedi 26 November 2012 - Steenwijk (NL) - 4.30 to 5pm - Radio SLOS
Witte Paarden (NL) - 9pm - Witte Paarden Cafe

Sunday november 27th - Zwolle (NL) - 8PM - De Heterbij, Nieuwe Markt

11-10-2011
Samples, Mary-Lou and Lonesome Day !
For several years, we have been working with Lonesome Day on folk and traditional country songs that we like to play beside the usual Mary-Lou trio songs (french original songs) and Hoboes (Appalachian music, folk et country blues as a duet). We play american songs we love in this 5 musicians new concept.
The contribution of Jean-Paul Raffin and Marion Thébault is great. With the Mary-Lou trio, violon, washboard, guitares, piano, they bring mandoline, dobro, lap steel, harmonica, guitar, allowing us to have on stage all the instruments of the folk and americana music (except banjo banjo).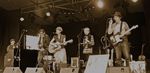 We play songs of the songwriters and musicians we love : Johnny Cash, Dan Fogelberg, Johnny Lee, Bob Wills, Ricky Skaggs, Lee Hazelwood and many more. We were in our studio these last weeks to record 4 titles to convince the organizers, the festivals and the associations. Here are these 4 samples. Maybe one day they'll be on a record, we'll see.
Before that, we'll record a new Mary-Lou cd, but that's another story.
We hope you'll like these songs. Tell us what you think, it's important for us to hear from you.
These boots are made for Walking
09-27-2011
Since 2008, CD Baby sells our music all over the world. You can buy or download most of the songs. Even the CD's that are not on sale anymore can be downloaded. And you can listen to samples of all the titles ! Enjoy...